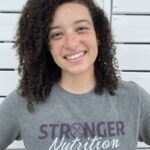 By Michael A. Williams, 01/24/21, 5:00 PM CST.
Welcome to AVA Coach Kelli Christian! Kelli earned dual Bachelor's degrees from Texas Tech University in Nutritional Sciences & Dietetics as well as Kinesiology.
She is also PN1 Certified along with having her NASM- CPT. Kelli is an amazing Nutritionist and personal trainer that has helped hundreds of top athletes achieve success. We are so blessed to have her join our AVA Family!
Kelli will be helping our AVAtors develop as well as serving as our primary resource for all things Nutrition and Healthy Eating. We wanted to start by asking Kelli 5 Important questions to benefit everyone at AVA!
More Resources: https://www.avatexas.com/strongernutrition
1. What do people inevitably ask you when they find out your background in healthy eating, coaching, and high-level competition?
When finding out about being a nutritionist the first question is always either "do you watch every single thing you eat" or "you're going to tell me I can't eat (insert food)". I find that a lot of people are intrigued by the idea of a strongman. I also find it a little mind-blowing when they learn I've pulled bomb trailers on an air force base and deadlifted a car. I love showing people how strong they can be and I love when people are interested in trying strongman!
2. What's the most common mistake that young athletes make when it comes to food choices?
I find many times they just don't know what it is they are eating, and unfortunately, it comes from not being taught. Most nutrition education only comes from Health class and that generally doesn't cover a lot of information. Many of today's young athletes are unaware of what carbohydrates are and what foods are best to provide quality carbohydrates.
3. What are the biggest benefits of eating healthy?
For an athlete, the biggest benefit to eating healthy is performance! Second to that would be increased overall health. Eating healthy gives athletes the fuel they need to perform at a high level. Poor eating can cause one to feel sluggish, bloated, and tired. With proper nutrition athletes are able to recover better after practice, games, and workouts, and in general you just tend to feel better when you eat nutrient-rich foods

4. What is the best thing that you can eat before or during volleyball tournaments?
Before a tournament carbohydrates and protein are the most important! Toast with an egg, a homemade breakfast taco, and I say homemade because as you prepare your food you can keep it from being greasy. A quick meal can be a breakfast taco, tortilla with 1 or 2 eggs along with Turkey sausage, and just a little bit of cheese! A peanut butter sandwich is also a good option if you aren't a big breakfast eater or just a simple protein shake, but get some fuel in you soon after!
During tournaments, you want carbs, nothing too heavy, kind bars, whole fruit, like bananas and apples, applesauce, dried fruit or even fruit snacks are ok when it comes to competing all day! You're burning a lot of calories so refueling in between games is important.
I have created a few flyers that are on the AVA website displaying some of my favorite tournament foods and one that shows what you should keep in your bag for during or after school!
5. What is the best age to start eating more healthy?
All ages can eat healthy! Start incorporating fruit and veggies with your youngest children, a lot of the flavors are ones they need to get used to so if they start eating them young, it'll be easier to eat them as they get older! Make healthy foods as just regular food, it doesn't need to be labeled healthy, incorporate their favorite food with the healthy ones but don't make it a big deal or bribe them to eat the healthy option for a treat. It's all just food.
Please check out all of the great information posted on the AVA website under Stronger Nutrition. https://www.avatexas.com/strongernutrition
I am always here to help!
-Dream Big. Be Strong. Stay Focused.
Follow Kelli on Instagram: @strongerntrn or email her directly at kelli.christian@avatexas.com